Locations
"As you enter Lou Mitchell's, you're handed doughnut holes—and Milk Duds to the ladies and children—by friendly staffers. In the open kitchen, a small array of cooks work with vats of butter and freshly cracked eggs. This is a benchmark breakfast restaurant; the kind of place you pray you'll find as you drive through small-town America. Lou Mitchell's preaches old-time restaurant religion, starting with the just-squeezed orange and grapefruit juices, and homemade orange marmalade. The tender pancakes and crisp malted Belgian waffles are flawless. ..." —American Way Magazine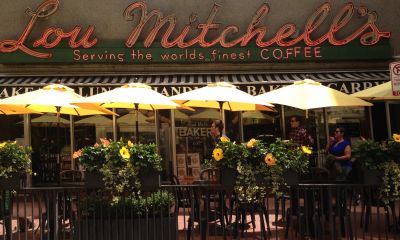 West Loop, Downtown Chicago
We are located at the start of Route 66 in downtown Chicago.
565 W. Jackson Blvd
Chicago, IL 60661-5701
(312) 939-3111 phone
(312) 939-4400 fax
Hours:
Wednesday through Friday: 6:00am to 2:00pm
Saturday and Sunday : 7:00am to 2:00pm Closed: Monday and Tuesday

Closed on the following holidays: Memorial Day, July 4th, Labor Day, Thanksgiving, Christmas.
Located in the downtown west loop, west of the Willi's Tower (formally known as Sears Tower), a half-block west of Union Station
Transportation: Cabs plentiful, Blue Line (Clinton stop), CTA Bus:7–Harrison, 126–Jackson, 60–Blue Island/26th, 125–Watertower exp., 157–Streeterville
Parking: There are public parking lots, as well as PayBox street parking. Please note that there is restricted parking on Jackson, as well as parking restrictions on Jefferson on Thursdays and Fridays.
Breakfast served all day/Children's menu
Fresh daily lunch specials 10:30 am to 2:00 pm
Catering
Baked goods and breads/Baked to our family recipes
Carry out available/Free delivery within the specified area
Outdoor dining March 1st–December 1st
Cuisine: American—Traditional Coffee Shop Diner—"Serving the World's Finest Coffee"
ASK ABOUT RESERVING LOU MITCHELL'S FOR YOUR PRIVATE PARTY AFTER HOURS
Rosemont - Haagen-Dazs
Featuring Lou Mitchell's bakery goods and Lou Mitchell's Graystone coffee products.
Fashion Outlets of Chicago
5220 Fashion Outlets Way
Rosemont, IL 60618
(847) 737-4727 phone
Hours
Monday-Saturday 10am-9pm
Sunday 10am-7pm
Corporate Office
333 S. Des Plaines St.,
Suite 506
Chicago, IL 60661
(312) 382-0707 phone
(312) 382-1707 fax